Support your Board and

those

neighbors that serve. If you have concerns, come to a quarterly Board meeting or better yet, volunteer and serve.
Owner Information. Click

here

for land records. 
Betz Landing Arbor Day Spring Cleanup
May 1st Begins at the front entrance at 8:30 am. Send any questions to  Betzlanding@outlook.com  Marshall Thielen is organizing. 
Bring your rakes and shovels to spread mulch and cleanup the area.  We will travel along Steamboat and the attached roads as well as Indian Trail to spread mulch around the trees on the roadsides. Ending up at the Boat Ramp Pavilion around noon to socialize before a potluck lunch about 1:00 Prepared by Cindy, Lien and other volunteers (get with Nannette Smith for a list of what to bring Betzlanding@outlook.com).
Let's make it a great day for all and spruce up the neighborhood.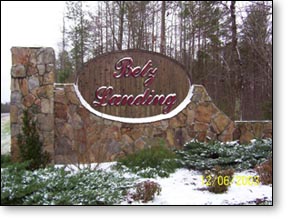 Board Meeting Schedule – 2021
June 12, 2021
September 11, 2021
December 11, 2021

March 12, 2022
, 2020 – Spring Cleanup starts at 8:30 AM. Front Entrance. Come join us. Picnic social starts as 12:00 PM – Food served at 1 PM. 
The Annual meeting of the Betz Landing Home Owner's Association will be held on the preliminary date of October 16, 2021. The location will be determined at a later date.



Board of Directors/Committee Members
President – Jerry Harvey  – term ends 12-11-2021
Vice-President – Nannette Smith – term ends 12-11 -2023
Secretary  Lien Groenwald – term ends 12-11 -2021
Treasurer – Donna Keeney – term ends 12-12-2022
Director – Cindy Reymer – term ends 12-11-2021
Director – David Dustin – term ends 12-12-23
Director – Marshall Ticer – term ends 12-12-23
Director – Kurt Bulger – term ends 12-14-2022
Director – Lauren Church – term ends 12-14-2022
Maintenance Chair – Marshall Thielen
Architectural Chair – Bob Morgan – term ends 12-14-2022
Architectural CC – Evelyn Hernandez – term ends 12-11-2021
Architectural CC – Teresa Neil – term ends on 12-12-2023
Comments may be sent to betzlanding@outlook.com
Please put the following in the subject line. (Lot# Lot owners last name).
You cannot leave a message here